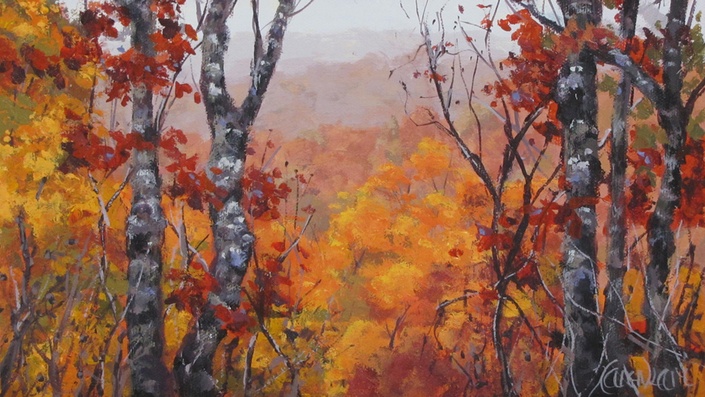 Fall Color
Learn to paint this beautiful fall landscape in Acrylic paints - step by step
Please join me as we paint this beautiful Fall scene in acrylic paints, step by step. Free Preview video below!
The course is great for the beginning painter, even if you are just starting out! I'll describe each step along the way in detail.
Also great for the more advanced student, or the student moving from another medium like oils, pastels or watercolor as well. You will see close up how to handle the acrylic paint, tips and techniques for making the most of this great medium!

Join the class anytime, and take as long as you like to finish it. You will have access to the class for as long as you like. So you can watch through all the videos once before you get started, or just paint along as you go. You can come back to them as often as you like to complete your painting!

We will finish this little painting together, step by step. I'll also be discussing concepts like composition, color mixing, values - all that stuff you need to learn so that you can paint beautiful paintings and express your own creativity. Learning to paint takes time, but along the way it's a great deal of fun!
What you will get:
The whole course is video based. Over 2 1/2 hours of video!
I'll start with some practice exercises to get you warmed up.
Then you will watch videos as I demonstrate each step in our painting.
You will learn how I mix the colors and what brushstrokes I am using. I'll be commenting on what choices I'm making and why.
Pause the videos, review them, fast forward. All at your own pace, and your own experience level.
Start whenever you like, and take just as long as you need to finish.
At each step along the way, you can upload both your exercises and your painting, so I can give you personal help and encouragement.
The videos are downloadable so you can put them on any device you are using.
The class info - reference photos and materials are downloadable in PDF format so you can print them out to use anywhere and keep for future reference.
"Fall Color" by Karen Ilari - 9" x 12" acrylic on stretched canvas

If you have any questions, please feel free to leave a comment!
For more info about me - you can visit my website at: www.karenilari.com
See you in class!

Your Instructor
As a full time acrylic artist and teacher living in Portland, Oregon. I am inspired by the amazing natural and man made beauty around me. Painting is my way of stopping all the busy madness of life for a moment. I slow down and study what is around me, the colors and shapes, the beauty that we pass every day but stop seeing because it is familiar. With each painting I try to tell a story, to share all the sensations of the day. Sounds, smells, and emotions. The paintings remind me to live each day with an open heart and an open mind. To slow down and enjoy life!
I paint outdoors "en pein air" as well as indoors in my studio. I will often spend a day out painting, taking lots of photos, and then come back to the studio to develop my painting further. My process involves many layers of acrylic paint on canvas. This creates depth, texture and interest throughout the canvas. I often become happily immersed in the process for many hours at a time.
I also love to pass on what I've learned about painting. I teach locally in Portland, as well as here online. I host a free online Art Community website as well. You are most welcome to join me and the other members to share your art and ideas with painters from around the world!
For more info, visit my website: www.karenilari.com
Course Curriculum
Intro and Welcome
Available in days
days after you enroll
Getting Ready
Available in days
days after you enroll
Focus on Fundamentals
Available in days
days after you enroll
"If you hear a voice within you saying, "You are not a painter," then by all means paint, and that voice will be silenced, but only by working" -Vincent VanGogh

Creativity is our very nature. Finding a way of expressing yours will positively impact all parts of your life!
A few words from some of my students:
"A teacher needs to have technical knowledge, the ability to deliver beneficial criticism and most importantly to me always be positive and encouraging. You bring all of those attributes when you teach and coach students." - Jamee Haas
"Karen, you have such a wonderful, painless style of teaching and make learning so much fun, I have recommended you to many of my friends! Thank you! You rock lady!!!" - Lynda Dineen

Let's have some fun!
Karen